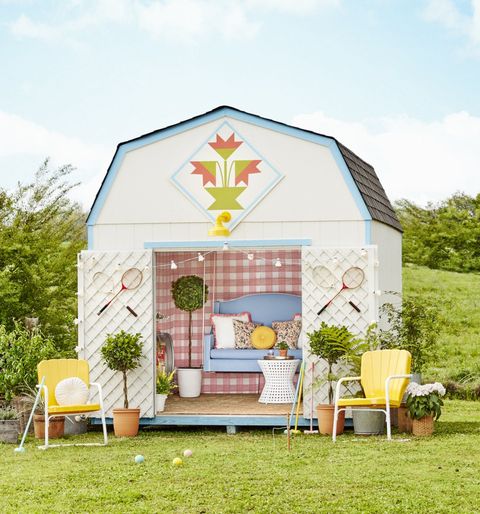 Warm weather is on its way, and that means campfires, pool parties, and cookouts are right around the corner. Make the most of summer with these yard projects that will encourage you to spend more time outdoors and make lasting memories this season. 
Add Landscape Lighting
If you like to host, you know there's nothing quite like a well-designed outdoor living space to encourage your guests to linger on a beautiful summer night. Landscape lighting is a great way to add ambient light to outdoor dinner parties, add color to a pool bash, or bathe your yard in a birthday party's color scheme. If you are thinking this sounds great, but also sounds like a lot of work, don't worry! 
Gone are the days of cumbersome lighting options that are difficult to install and complicated to control. With a landscape lighting transformer, not only do you keep your lawn free of wire clutter, but you can also control your landscape lights wirelessly via a signal that's more stable and responsive than any Bluetooth connection. 
Bluetooth signals can be blocked by objects, which can make it difficult to adjust the lighting on the fly. With a landscape lighting transformer, you can control your home's front yard lighting from the backyard, from the neighbor's garden, and even from miles away. If you'd like to give your yard a facelift, landscape lighting is a quick and easy way to prep your outdoor space for summer and beyond.
Install a Playset
Whether you're a parent, a grandparent, or a relative who likes to take on babysitting duties so mom and dad can enjoy the rare date night, a playset is a great investment to encourage kids to spend some time outside. 
Playsets come in a variety of sizes and styles, so you can find the setup that will best fit your yard. You may want just a few swings that are easy to take down and store over winter, or you may want to install something more permanent. Even if you don't have children of your own who will use a playset, your adult friends will appreciate that you have a space for their children to play if you plan to host over the summer. 
Build an Outdoor Living Space
Outdoor living spaces are a great way to encourage everyone to spend time outside on a beautiful day. Decks and patios are perfect for large groups to hang out and chat. Small pergolas or lawn chairs tucked away in a private part of a garden are great for intimate conversations or a little alone time. 
You might be tempted to tackle this project in the summer months when the days are warmer, but it's best to start these projects before plants are in full bloom and the insects end their hibernation. Blown seeds and leaves and crawling bugs can stick to a new wood finish or paint job, marring your hard work. It's best to try to finish these projects before the greenery fully pops so that you can limit the odds that nature interferes – or discourages you from starting in the first place. By spending a little time setting up your outdoor space this spring, you'll have even more time to enjoy the fruits of your labor over the summer months.
Spring is a time for renewal, and if your yard could use an update there's no better time to get started. With a little bit of hard work, your yard will soon be the envy of your neighborhood – and the place to be during the warmer months of summer.