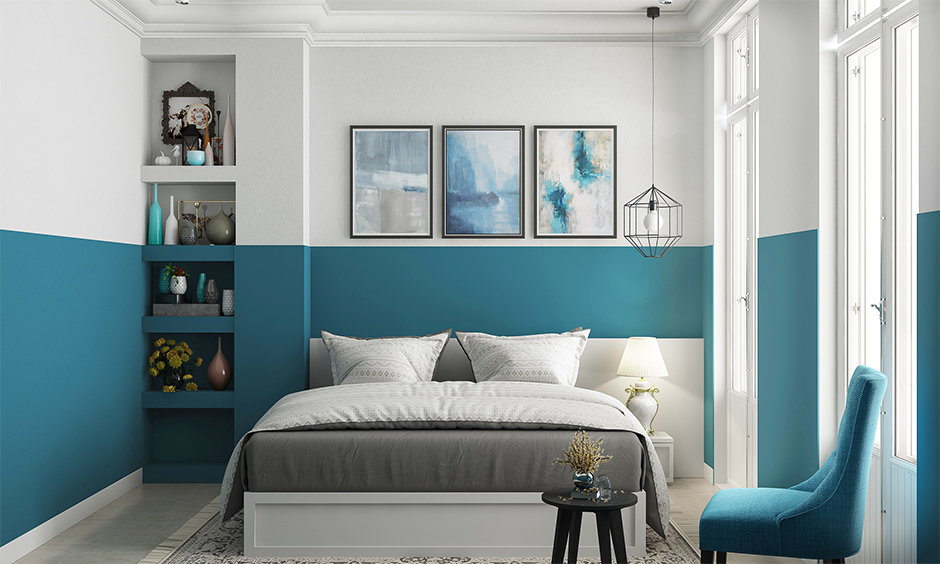 You must never choose your bedroom colour randomly. It will impact the overall look of the space. Also, colours set the mood of a space. You should look for options that will make you feel more comfortable and welcome. However, choosing only one colour can make the bedroom interior design appear monotonous. Therefore, you should always consider choosing colour combinations for the bedroom. A two-colour combination for bedroom walls is recommended by experts if you are looking for a simple yet appealing design. Many different two-colour combinations can be used in the bedroom. In case you are not sure about the colours you should choose, consider experimenting with blue two colour combinations.
Blue is considered one of the best colours for the bedroom. This is because blue is not only a serene and calming option but also looks very bright and stylish. People will feel more relaxed in a bedroom featuring blue elements. Therefore, choosing a blue two-colour combination for the bedroom can help you to feel more relaxed at the end of the day. If you are not sure about the different shades you can choose with blue, here are a few ideas:
Best colour combinations with blue
01 of 06 Sky blue and dark blue
When you are thinking about adding two different shades of blue to the bedroom interiors, you can consider choosing sky blue and dark blue. This is one of the most popular blue colour combinations available. One of the main reasons people love this is that this colour combination makes the interior design feel more spacious. If you have a small bedroom, you can certainly benefit from this colour combination. Also, you can use this colour combination to create a stunning bedroom design. There are two options for that. You can either paint the entire room with the light colour and create an accent wall with the dark shade or paint the entire room with the dark shade and create the accent wall with the lighter shade. Either way, make sure that the interior design appears balanced.
02 of 06 Coral and coastal blue
Many people are not aware of the difference between coastal blue and coral blue. The shade of coastal blue is lighter than the shade of coral blue. Experts believe the combination of these two colours is one of the best blue two-colour combinations you can consider for bedroom interior design. If you can manage to add this colour combination properly, your bedroom interiors will appear stunning. Just make sure that you choose furniture that complements this colour combination. Furniture featuring a coral pink hue is considered great if you want a bright and elegant bedroom interior design.
03 of 06 Blue and red
Do you want to create a bedroom design that is warm and beautiful? Introduce red to the space. Red has a bold and compelling appearance that can make the bedroom interiors more interesting. Combining it with blue is a great idea. It will make your bedroom interior design more interesting. This is because red represents fire while blue symbolises water. The contradicting elements add more visual interest. In most cases, a darker shade of red is chosen with a lighter shade of blue. However, you can opt for a darker shade of blue with a lighter shade of red as well.
04 of 06 Blue and white
You can never go wrong with blue and white when you are looking for colour combinations with blue. It is one of the most popular combinations you will come across. One of the main reasons behind it is that you can use many shades of blue with white. Therefore, this colour combination opens up more opportunities to experiment with different blue shades. You can choose any shade of blue depending on the rest of the colours used in the bedroom interiors. Also, this combination will help to create a soothing and calming ambiance in the bedroom interiors that will help people to sleep better at night.
05 of 06 Beige and blue
Blue and white are a great combination. However, you can choose blue and beige if you want to avoid white. This colour combination is equally beautiful. However, it is always better to stick to lighter shades of blue instead of dark shades when you are choosing beige. Paint the entire room beige and create an accent wall with a light shade of blue.
06 of 06 Dark blue and blue
The dark blue and sky blue two-colour combination for bedroom walls is brilliant. However, there is another similar option you can choose for your bedroom. A dark blue and blue combination can be considered for your bedroom. This is great for creating a soothing atmosphere in your bedroom. paint the entire room blue and choose dark blue for the wall behind the bed. This will make your bed the focal point of your bedroom as well.