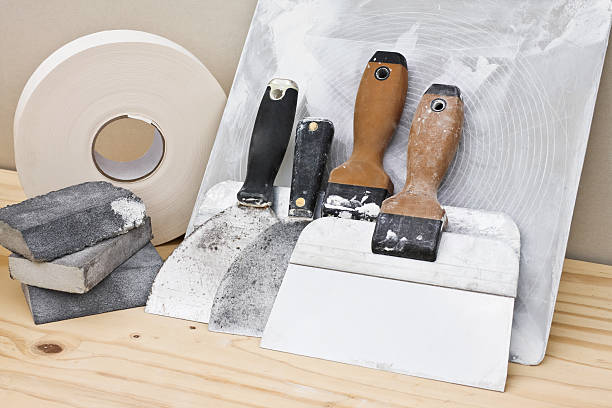 No matter what the task or job, having the right tools is essential. Without them, even the most skilled labourers would struggle to get the job done. For a skilled trade like plastering, that is even truer.
There are a few things to consider when choosing the right plastering tools to do the job the right way. For instance, which tools will become the most essential? Here are the tools that any plasterer should have in their toolbox.
Finishing and Pointing Trowels
For the amateurs out there: if you think that plastering is a simple thing, think again. There is a variety of trowels that can make one application or another a lot easier. For instance, seams and corners can present challenges, but not if you have the right tool.
Finishing and pointing trowels make those areas a breeze. A pointing trowel is durable, rigid, and strong. The flat edge can get into the tightest corners, ensuring that you leave no area of the surface in question untouched.
Plasterer's Hawk
What is a plastering hawk, anyway? This is a tool that will hold your plaster even while you are moving around. It improves efficiency because it allows the user to apply plaster both quickly and easily, especially in areas offering lesser mobility, like ceilings and corners.
Think of it as a painter's palette. It holds the materials before you disperse them to the canvas. Carrying around a bucket of plaster can be cumbersome and lead to any number of issues throughout the course of a job.
Mixing Bucket
Regardless of the size of the job, having a sizable mixing bucket is key. That bucket also needs to be both strong and durable while being easy to clean. Any good plasterer knows to mix up a large enough batch so stopping will not be necessary. But without the bucket, that will be much easier said than done.
Beading and Snips
True professionals know what metal beading can offer to the finished product. Consider it the professional touch, something that many DIYers may not even know about when they are beginning a plastering project.
On the same hand, quality snips are a must to cut and trip that beading down. To maintain a professional look, you can't have uneven cuts. With the right snips, it will easily cut through the beading to improve the quality of your work.