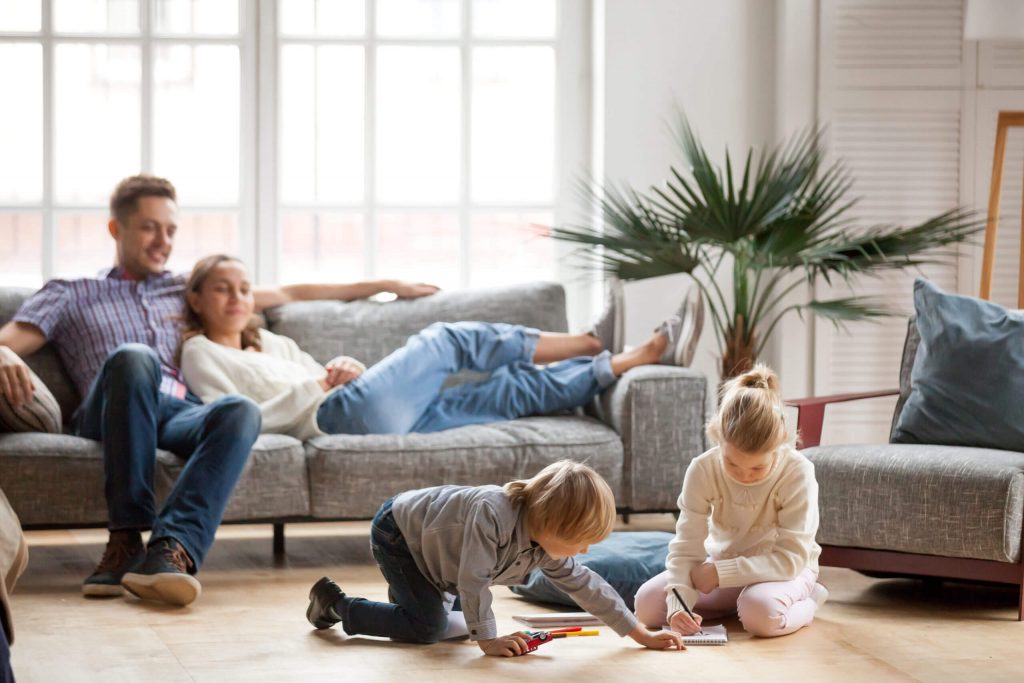 Advantages of controlled ventilation: With the central control, the amount of air transported can be adjusted as required between minimum air exchange and maximum flow to the living situation. If the house is empty (office hours, vacation), the device switches to minimum operation, the house owners celebrate a party, and the unit increases its output. The regulation of a central ventilation unit helps to save energy. In addition: The room air becomes cleaner through repeated filtering. Dust, pollen, and street noise stay outside. But be careful: all windows must remain closed for the system to work efficiently. Additional window ventilation worsens the energy balance of the ventilation system. Learn more about it on website.
Controlled Living Space Ventilation
The disadvantage of fan noise: Noise is also generated in central ventilation devices. The unit should stand on vibration dampers to limit it to the installation site. Flush-mounted ducts are acoustically decoupled with insulating tubes. Flow noises arise when the duct cross-sections are too small for the volume being conveyed, or the flow velocity is too high (guide values: in the main duct 3 m / s, inside branches 1 m / s). Since the duct system connects all rooms, noises would be distributed throughout the house. Silencers on the outlet valves reduce the airborne noise.
Hidden energy guzzlers: To ensure that ventilation systems do not consume more drive energy than they save heating energy, special requirements apply: Supply and exhaust air systems should require a maximum of 0.5 kW of electricity per cubic meter of air and hour. At least 60 percent of the heat should be transferred from the exhaust air to the supply air. This heat recovery figure is higher for many devices (over 90%). Therefore, they are also suitable for passive houses, for which stricter limit values ​​(heat recovery rate greater than 80%, max. 0.4 kW / m3h) apply.
Single Room Ventilation Systems
These decentralized ventilation systems (approx. 5000 euros per room to be ventilated) are attached to the wall like radiators. Outside air is sucked in via drilled holes in the facade, mixed with warm room air, and blown into the room. Used air is transported outside separately – louver flaps make short-circuit currents between supply and exhaust air more difficult. Decentralized ventilation can also be retrofitted with little effort. The necessary technology (fan, filter, heat exchanger) is in the body on the room side. Disadvantage: Sensitive people can feel disturbed by the flow and running noises of the fan. To learn more about damper collections visit website.